Cómo comprar
1. Busca la temática de fiesta que mas te guste! (cumpleaños, comunión, bautizo, piratas, animales, etc)
Find a theme party (birthday, communion, baptism, pirates, animals, etc)
2. Añade al carrito tantos productos como necesites!
Add as any products as you want to the shopping cart!
3. Introduce los datos para el pago. NO olvides facilitar una dirección de email válida para poder enviar los archivos!!
Introduce your credit card/paypal details. DO NOT forget to provide a valid email address to send you the files!
4. En NOTA PARA EL VENDEDOR facilita los datos para la personalización. (Más info en la sección PERSONALIZACIÓN/ CUSTOMIZATION)
In NOTE TO SELLER give us the necessary info for customization. (More info in PERSONALIZACIÓN/ CUSTOMIZATION)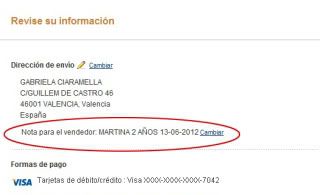 5. Confirma la compra y en aproximadamente 48hs te llegarán los archivos por correo electronico.
Confirm the purchase and in approximately 48hs you will receive files in your email.
6. Imprime, recorta y decora!
Print, cut and decorate!